Did You Find A Sussex Spaniel?
HAVE YOU SEEN A DOG WHO LOOKS LIKE THIS IN YOUR LOCAL SHELTER?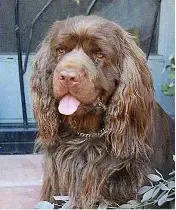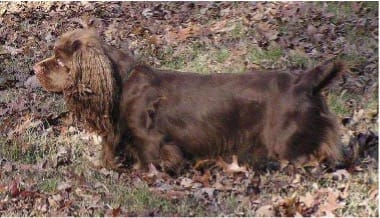 SUSSEX SPANIELS – are the rarest of all spaniel breeds.
Sussex Spaniels are a heavy RECTANGULAR dog that is GOLDEN LIVER in color with golden highlights on feathers, ears, and all over the coat. Generally, the height is 13" – 15" at the SOME ARE AS SHORT AS 11" AND AS TALL AS 17
The tail is almost always docked, at 5" – 7", with a brush at the end but some tails may be really short with no brush. When they are not docked, the tail is nearly as long as the body with feather from root to tip.
Sussex have large round feet with hair between the toes.
The coat may be straight or wavy but never curly.
Adults weight can vary from as little as 25 lbs for females to as much as 50+ pounds for females to as much as 50+ pounds for
males.
The eye color is HAZEL to match the dog. The nose and nails are LIVER colored. The bite may be scissors, level, under shot, or wry.
The ear itself should be lobe-shaped and set low. The ear hair hangs well below the jaw line and is LIVER COLORED with GOLDEN TIPS even if they are trimmed.
Spayed and neutered Sussex Spaniels are much furrier.
If you have seen a dog like this in your shelter, please contact:
SUSSEX SPANIEL CLUB OF AMERICA
Rescue and Placement Coordinator
KIMBERLY ANN KESSELRING – gotsussexspaniels@gmail.com